Note that if you use the option to log in with your Google account, you should not be affected by this problem and can proceed to log in to CATMA as you do normally. (How do I know if I can log in with my Google account?)
For the latest status updates on this problem, please see our status page.
Step 1 – Navigate to https://git.catma.de/users/sign_in and log in using the username / email and password combination that you normally use to log in to CATMA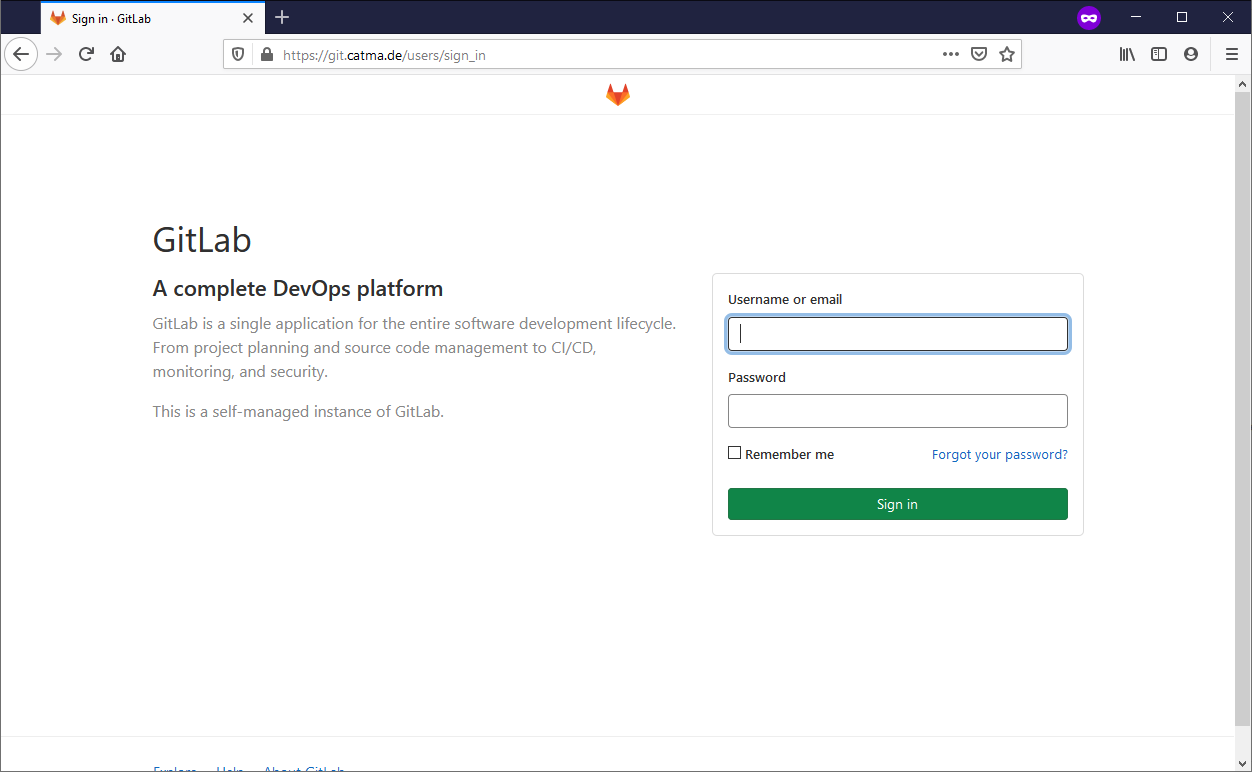 Step 2 – You will land on your projects dashboard. Click on the user dropdown in the top-right corner of the page, then click on Preferences.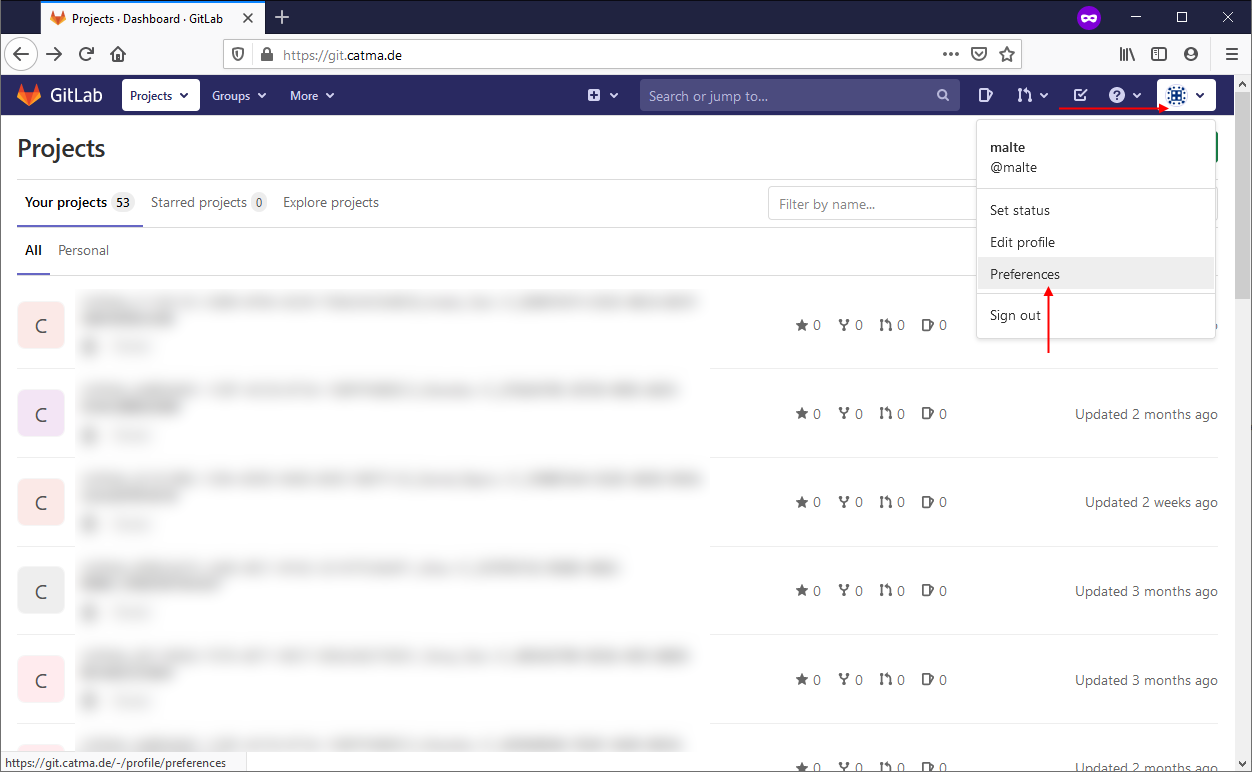 Step 3 – In the menu on the left, navigate to Access Tokens. Create a new Personal Access Token with the name "temp-login-workaround", set an expiry date of 2021-03-08some time in the future, and be sure to check the box labelled "api" under Scopes. Now click the green button "Create personal access token".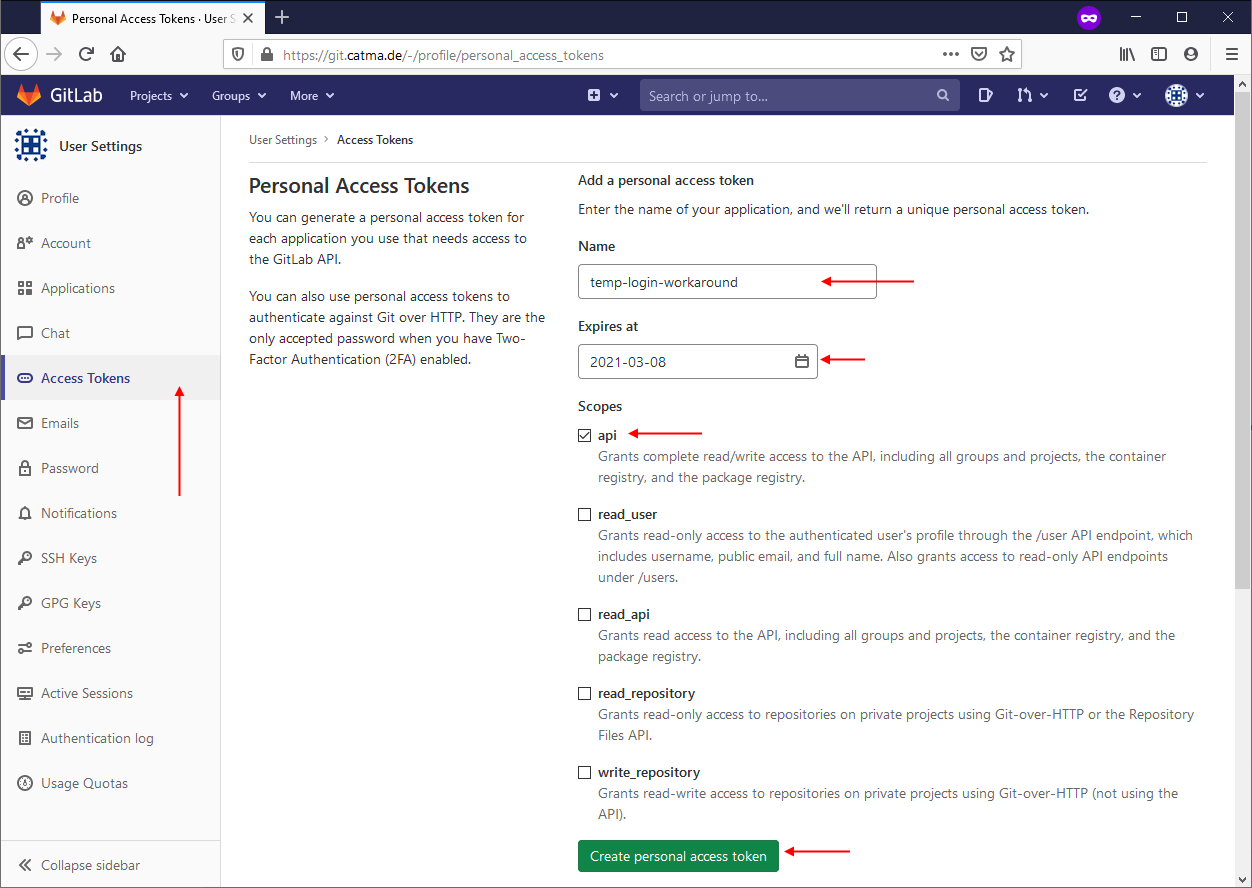 Step 4 – Copy your new Personal Access Token and keep it in a safe place. You will need to use this every time you want to log in to CATMA, until the login issue is resolved. Note that you will no longer be able to retrieve the token after you leave this page (but you can always create new/additional ones if need be). Treat the token like a password and do not share it with anyone! You can now log out of GitLab.
Step 5 – Navigate to the CATMA application and click on the Sign in button.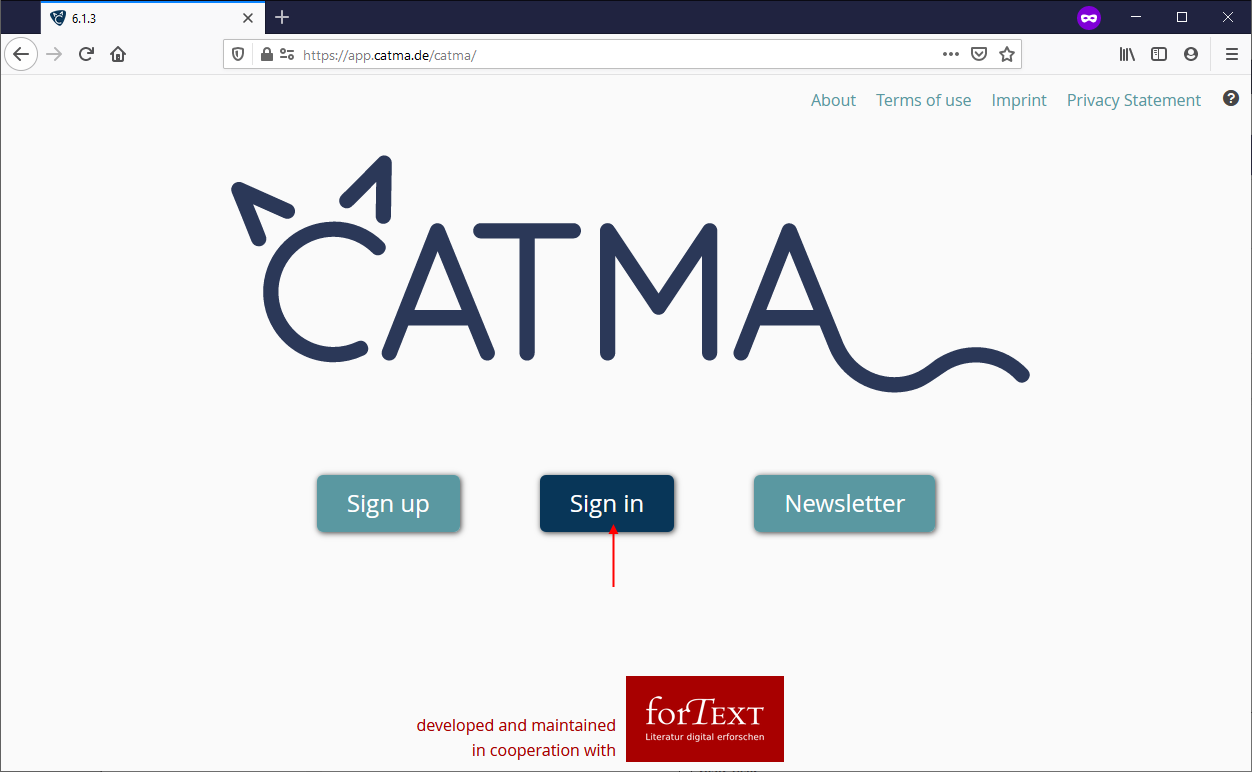 Step 6 – Once the Sign in dialog appears, press the ALT (OPTION on Mac) and P keys on your keyboard once, at the same time.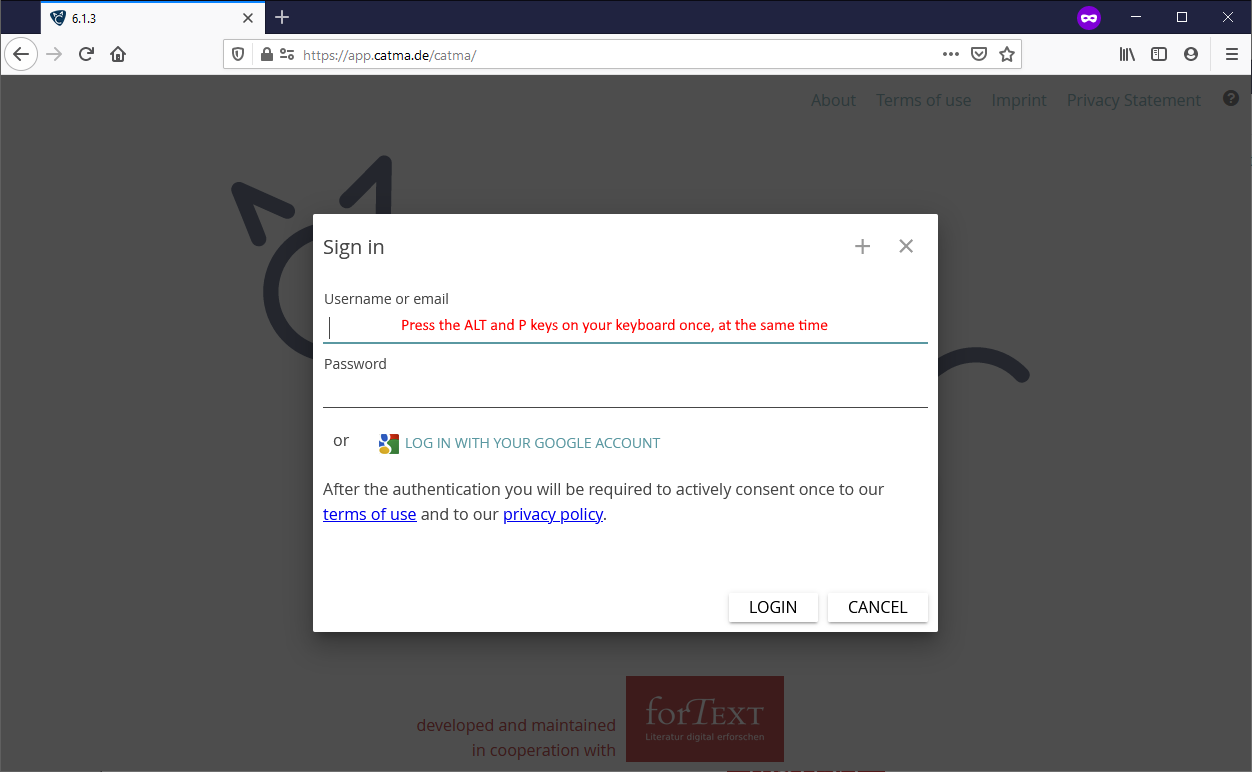 Step 7 – The username / email and password fields should be replaced by a single field, labelled "Personal Access Token". Paste the Personal Access Token that you copied in step 4, then click the Login button.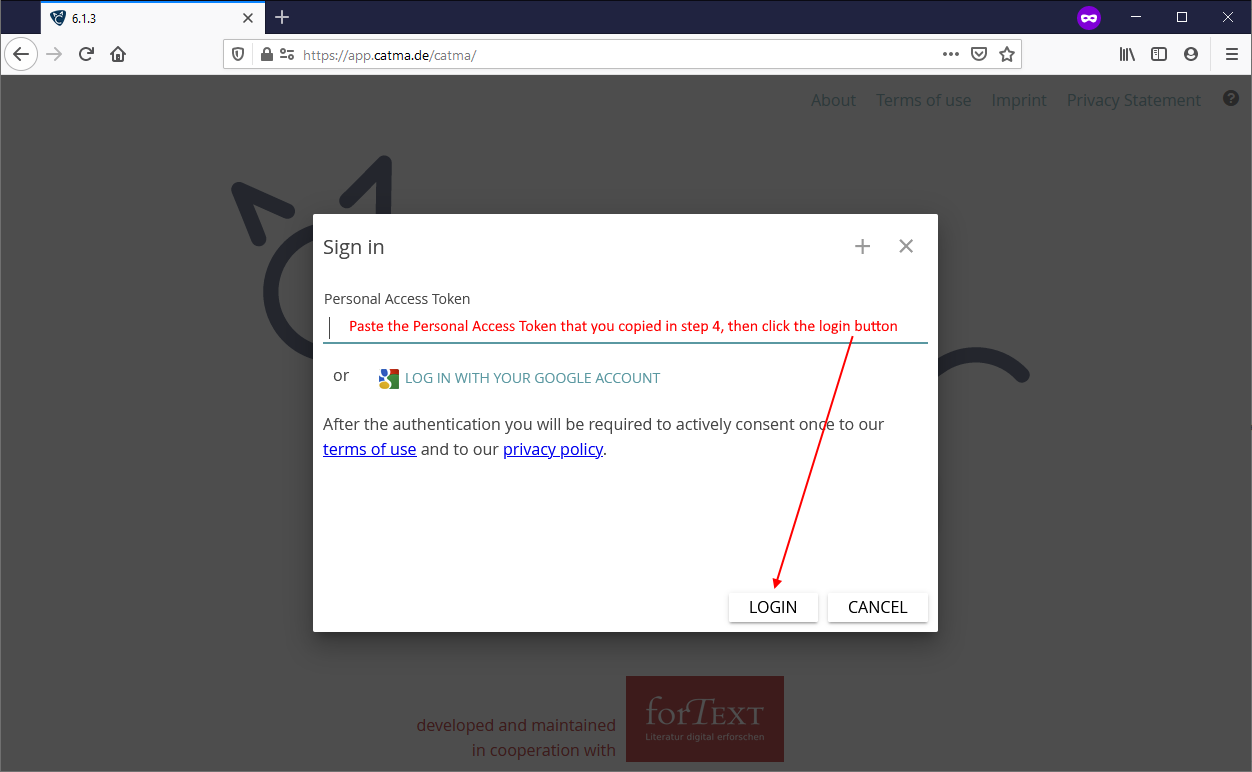 You should now be logged in to CATMA. If you have any trouble with these instructions, or any questions relating to this problem or the workaround above, feel free to write us a mail (you can find the details on the contact page).
We apologise for the inconvenience this has caused.
Sincerely,
The CATMA team