Do you have an issue not mentioned below, or you need additional help? Contact Us
CATMA 6
Login issues
Update: 04 Mar 2021
If you previously created a Personal Access Token using the instructions for the workaround, and you followed them exactly, your token will likely expire on Monday 8th March. You may also have received an email from our GitLab server about this. If you try to log in with an expired token, you will see the same error message. Please create a new token in this case.
Started: 28 Feb 2021, 17:15 UTC (ongoing)
There is a problem with logging in using the email address and password option. We have created step-by-step instructions that you can use as a workaround to log in until we can fix the problem. Our sincere apologies for the inconvenience.
Symptoms: You will see an error message telling you that your username or password is wrong, even when they are correct. This happens both for newly created or existing accounts that do not use the option to log in with a Google account. (How do I know if I can log in with my Google account?)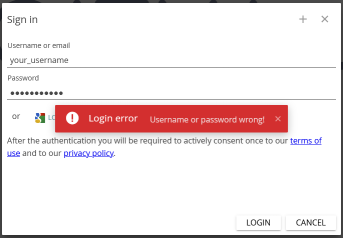 Cause: An update of our GitLab infrastructure unfortunately came with a breaking change, which is making this problem difficult to resolve.
CATMA 5
Should be running as expected. No problems reported.